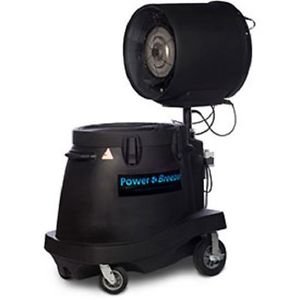 1 Power Breezer® - Mobile Air Cooling Unit
Actual Size: 70" x 29.5" x 51.5" assembled
Outlets: 110V or 220V (Type G Plug)
Age Group: Any




Power Breezer ® is the most effective solutions for outdoor activities.

Risk of heat stress and personnel safety are concerns in many everyday situations. The compact, strong, and effective

Power Breezer ®

addresses these issues by quietly cooling up to a 3,000 sq. ft. area by up to 27°F. There is no hose or water source required and can be ran off of a generator. The

Power Breezer ® is

designed to cool without getting people, or equipment wet.
The unit is an energy efficient evaporative cooler is extremely versatile. It can be used to cool your guests at family reunions, picnics, weddings, - really any event that needs to relieve your guests from the heat.
The

Power Breezer ®

cooling fan consumes less power than a hair dryer, it meets OSHA reauirements and green initiatives.